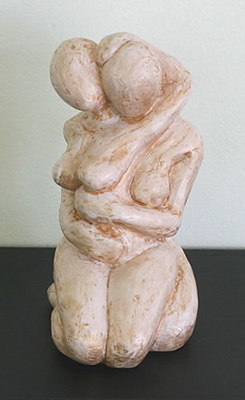 "Twin Souls"
handcast stone sculpture
size 14 x 10 x10 cm (6″ x 4″ x 4″))
$95

This sculpture is a celebration of a special love and friendship between two women.
'Twin Souls' describes that perfect state of friendship and love shared between women. Life is a gift of joy when shared with someone special.
When two women share a special love, their souls intertwine, stretching effortlessly across time and space.
Place your sculpture where it will be a daily reminder of that special woman you love with who you walk your life journey.
Makes a unique gift for lesbian couples and women lovers.
When you turn this sculpture in your hands, you will see and feel how one partner spirals lovingly into the other. Is there a point where one partner ends and the other begins, or is love just a continual spiral of movement and energy in the dance of life ?
This is one of those truly special artworks which looks wonderful in a bedroom setting and really helps to create a peaceful and loving atmosphere of love and sensuality.
Comes giftwrapped and can be sent around the world
with a gift card with your own special message.
For more information, visit
http://www.theartofhappiness.net/lesbian_sculpture_twin_souls.htm